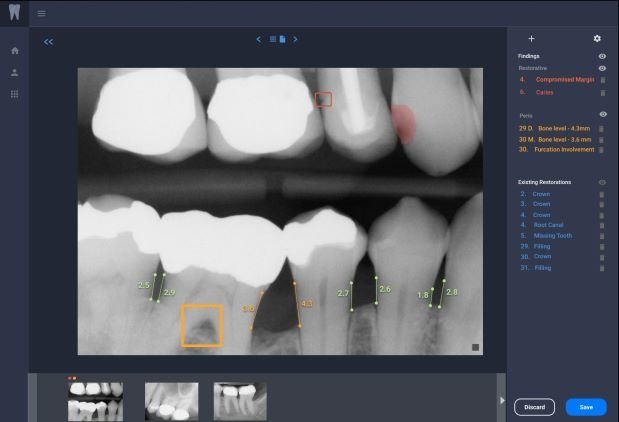 The Overjet startup has received permission to introduce deep learning-based software into US dental clinics. The tool determines the diagnosis in real time from X-rays, thereby reducing the time spent by the doctor on studying the images.
The FDA's permission to use Dental Assist, ACCORDING to Overjet, made it one of the first artificial intelligence systems to be massively used in dentistry. Clinical studies have shown that the instrument has a high accuracy of measuring bone density during radiography of the oral cavity. The results of Dental Assist coincide with the estimates made by highly qualified dentists, with an accuracy of one-third of a millimeter.
The flagship feature of Dental Assist is a technology that measures bone loss on dental X-rays, which makes it easier for dentists and hygienists to diagnose periodontitis , a disease that causes pain and tooth loss, to which almost 50% of Americans are exposed. The tool is designed to significantly reduce the time spent on diagnostics, because it works in real time and eliminates the need for dentists to manually examine X-rays.
At the moment, Overjet software is already used by insurance companies to confirm doctors ' diagnoses. Overjet plans to obtain FDA permits for new versions of Dental Assist, which allow detecting tartar, damaged teeth and other dental diseases.